Research R-ITT
Research Institute of Theatre Therapy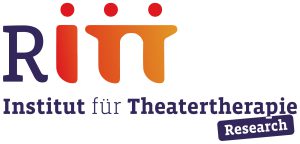 Management & Contact Person:
Anke Schäfer, schaefer@theatertherapie.org

Advisory Board:
Ingrid Lutz (ITT Berlin), Dr. Susana Pendzik (HU Jerusalem), Dr. Nisha Sajnani (NYU New York), Dr. Anna Seymour (RU Roehampton)
Positioning
The International Research Institute of Theatre Therapy (R-ITT – Research Institute of Theatre Therapy) was founded in April 2021 to fill a major gap in the research landscape of artistic therapies. As an integral part of the Institute of Theatre Therapy, the R-ITT Research Institute aims to engage also internationally in dialogue and collaboration with existing research institutes and research organizations in the field of artistic therapies and theater therapy. The advancement of theater therapy research, based on a transdisciplinary as well as transculturally oriented anthropology and sociology, shall be a main focus of the institute. Furthermore, the R-ITT Research Institute wants to inspire practicing theater therapists as well as colleagues from psychology, anthropology, sociology, medicine and social work interested in theater therapy research, to stimulate own research and to support intended research projects in an advisory capacity.
With the establishment of the R-ITT we would like to open up research spaces for aspects of theater therapy that research increasingly oriented towards medical evidence and efficacy can only marginally perceive: e.g. the critical reflection of socially and societally conditioned power structures as well as the transcultural divergence in the perception of body, mind and interpersonal relationship.
Therefore, we see the insights and research methods of critical and medical anthropology as particularly suitable for gaining helpful insights and methodologies for current therapeutic as well as psychosocial challenges.
We cordially invite those interested in research to pay attention to theater therapy methods from the fields of social theater, theater for change, action theater, theater of the oppressed, and ritual theater. In the multidisciplinary clinical context, these roots of theater therapy seem to us to be relevant and especially helpful when it comes to accompanying people from different social fields and cultural contexts through times of crisis.
Research Roundtable and Research Circles
Research Roundtable
The Research Roundtable is an open, biannual event led by Anke Schäfer.
Registration is required for participation. Please use the link below to do so.
Research Circles
Research circles should consist of no more than about five people and meet once per quarter. The findings that emerge at the meetings can be recorded and brought to the bi-annual research roundtable. Wishes for the design of the research colloquium can also arise here and be brought up for discussion.
When you register for the research roundtable, please indicate the research circle you would like to participate in:
Funding for Theatre Therapy Research Projects.
What might research by non-academics look like?
What might research tandems look like: Academics in exchange with practitioners.
Research topics: Exchange and support on topics related to professional practice
Feel free to submit other suggestions to: schaefer@theatertherapie.org
If you want to register for the roundtable go to the German part of this site and select Forschungsrunde & Forschungskreise