Research R-ITT
Research Department of the ITT-Institute for Theatre-Therapy, Germany
Foundation: April, 2021 by Ingrid Lutz and Anke Schäfer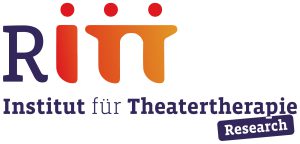 The Research Institute for TheaterTherapy (RITT) promotes a practice based theatre and drama therapy research with paradigms that relate to transformative, decolonizing and feminist views.
We open up research spaces for a theatre and drama therapy research which specific qualities have get lost in a medical understanding of evidence-based  studies: namely the complexity of interrelational  interactions and its expression in manifolded creative art forms and performative actions.
We like to foster especially research which takes social structures of power and powerlessness into account as well as the seamless connectedness of body, mind and interpersonal relationships.
We see the  critical anthropology as a valuable reference when we look at the history of transcultural, social  forms of theatre in drama therapy: as the social theatre, theatre for change, action theatre, the theatre of the oppressed and the ritual theatre. Even in a multidisciplinary clinical context, we consider these roots of drama and theatre therapy as particularly helpful to support and empower help seeking people from diverse social and cultural backgrounds.
We consider the theories of performative studies, feminist and decolonizing theories and the critical anthropology as particularly suitable for a solid foundation of a Practice and Arts based Theatre and Drama Therapy Research.
We are interested in  transdisciplinary exchange to support the  need of social justice and ecological change   which we understand as inextricably linked to the well-being of all beings. We believe in the kaleidoscopic landscape of the Arts to deal with the enormous challenges in social and psychosocial fields. We want to promote  Arts Based and Drama Therapy based perspectives into the dialogue with other institutions and associations as the WFKT – Scientific Society for Artistic Therapies  and further organizations and colleagues worldwide.
Be welcome to join our research colloquia and to contact us:
The following working groups at the RITT are currently installed or in planning:
Open Research colloquium with invited guest speakers, round 3 times the year
Working Group "We do research – Theatre Based Research concepts for the Practice", foundation 11/2023
Ritual based Research Group (realization: Ingrid Lurz)
In preparation: Implementation Theatre Based Research in the ITT training program
In planning:
Training courses on research methods from the perspective of Practice Based and Arts Based Research
RITT symposium in cooperation with the DGfT – German Society for Theatre Therapy
Theatre Based Research in cooperation with the ITT training program
Management & Contact:
Head of the  RITT – Research Institute for Theatre Therapy:
Anke Schäfer, schaefer@theatertherapie.org
International Advisory Board:
Ingrid Lutz (Berlin), Dr. Susana Pendzik (Jerusalem), Dr. Nisha Sajnani (New York), Dr. Anna Seymour (Roehampton)